My name is Greg Bruce. The knives I make represent traditional, field-proven designs. I produce both full tang and hidden tang knives for big game including deer, elk, moose and bear. Enjoy fishing? You will not find a better fillet knife than a Bruce Blades fillet. In addition, I produce smaller knives for skinning and boning. If you have a design of your own, I do custom work as well.
Some of my past work can be seen on the Examples menu. Available knives can be found in the Store.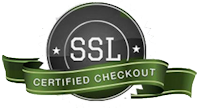 My store checkout is secured with SSL technology.