I make handmade hunting knives to be used for gutting, quartering, and skinning game such as deer, elk, moose and bear. Enjoy fishing? You will not find a better fillet knife than a Bruce Blades custom fillet. Proudly made in northwest Minnesota, my walleye fillet and hunting knives will not disappoint you. I also make knives for boning or for use in the kitchen. All my knives are handmade in my shop, by me, from start to finish including heat treatment.
Some of my past work can be seen on the Examples menu. Available knives can be found in the Store.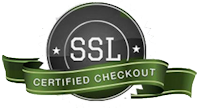 My store checkout is secured with SSL technology.